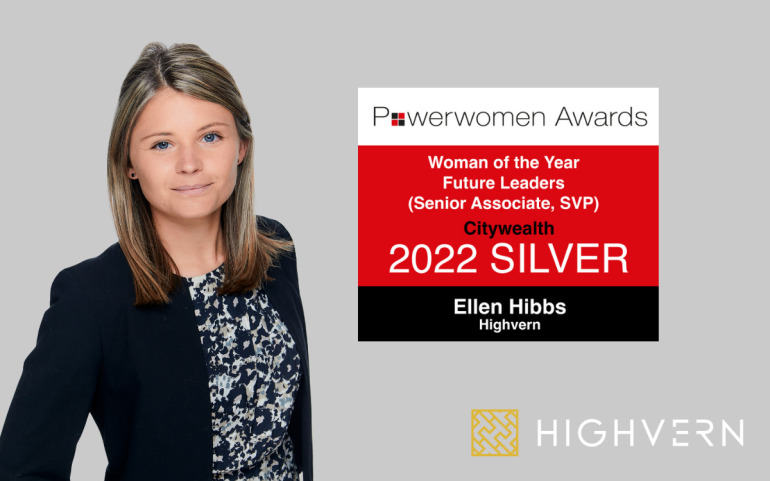 Ellen Hibbs, HIGHVERN's Senior Trust Manager, was recognised with a Silver Award at the 2022 Citywealth Powerwomen Awards held in London last week. Ellen was shortlisted in the 'Woman of the Year – Future Leaders – Senior associate / SVP' category at the event, which celebrates women and female leadership in the wealth sector across the globe.
Winners of the Awards are those who maximise their potential and create a platform of best practice to exercise positive social influence on the sector. Ellen has had an impressive year, being listed in the Top 35 Under 35 Private Client Practitioners by ePrivateclient, joining Jersey's #BuildBackBetter initiative, and chairing HIGHVERN's newly formed ESG Committee.
Ellen said: "It is great to receive such an Award as this, especially ahead of International Women's Day this week. HIGHVERN has always supported my interests and encouraged my input into the company and the direction we take as a responsible and sustainable corporate citizen. These are exciting times for HIGHVERN and I'm really eager to play a role in its future success."
Naomi Rive, Group Director and Head of Private Wealth, said: "Ellen's enthusiasm to make the industry a better place for clients and her colleagues alike has spread throughout HIGHVERN, encouraging more of us to consider the wider implications of our business decisions. She has recently enjoyed a well-deserved promotion and I have no doubt that she will continue to succeed and inspire all those around her for many more years to come."
HIGHVERN was also shortlisted at the Awards as 'Wellbeing Advocate of the Year', being a firm that promotes a good work/life balance and empowers employees to take care of their physical and mental wellbeing.