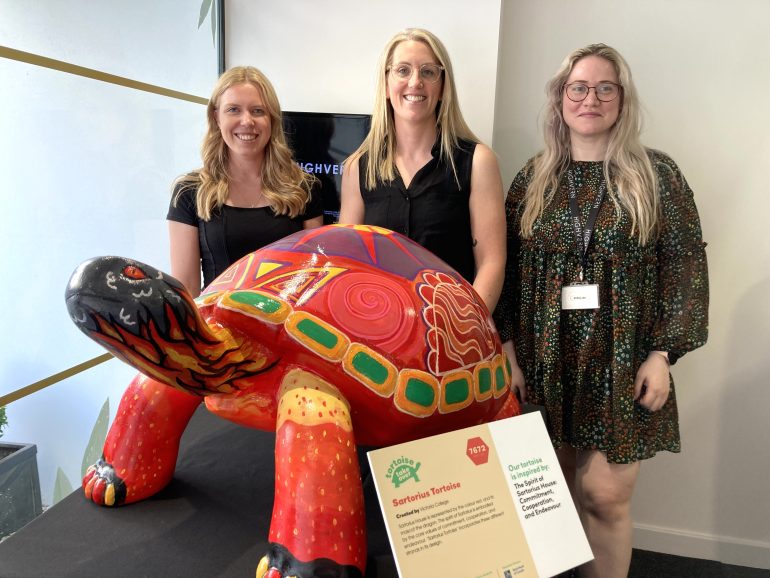 HIGHVERN has welcomed Sartorius to its Jersey offices as part of Durrell's Tortoise Takeover. The sculpture can be found in the lobby of HIGHVERN's offices at Whiteley Chambers on Don Street, as part of the Young Tortoise trail which leads people around St Helier town centre.
Sartorius was designed and painted by Victoria College students (from the House of the same name) and is inspired by the spirit of Sartorius and the House's mascot dragon. The red tortoise symbolises the House values of commitment, cooperation, and endeavour.
Durrell's Young Tortoise trail sees 65 sculptures designed by local schools and community groups on display in offices and shops around St Helier. The sculptures will be on show from 16 June until 31 August as Durrell looks to raise awareness of endangered species of chelonians, which include tortoises, turtles and terrapins.
HIGHVERN are long supporters of Durrell's conservation work, with staff having recently held an auction to fund raise for the charity, and the business itself supporting Durrell's 'Rewild Carbon' initiative to offset its carbon emissions.
Martin Hall, HIGHVERN's Chief Executive, said: "We are excited to be part of this great community project which draw's attention to endangered species and the important work that Durrell carries out every day to protect them. An incredible amount of work has gone into designing these tortoises and we applaud the students' talent and creativity now on display for all to see."
Visitors are invited to come and take photos with Sartorius and share them with HIGHVERN by tagging on social media using #TortoiseTakeover.