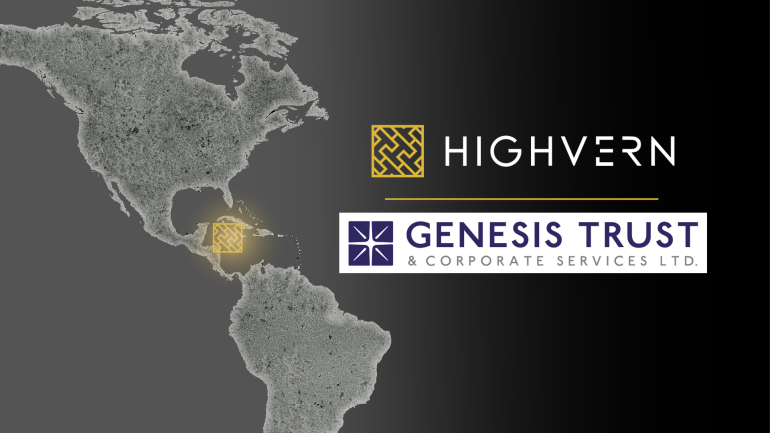 The HIGHVERN group has expanded into the Cayman Islands with the acquisition of Genesis Trust & Corporate Services Ltd. Genesis is one of Cayman's leading providers serving the private capital and funds governance markets and will complement HIGHVERN's already award-winning private wealth, funds and corporate services offerings.
This expansion further cements HIGHVERN's position as one of the leading multi-jurisdictional, independent service providers, with over 100 employees and offices also in Jersey, Guernsey, Ireland, Switzerland and the UK.
Genesis has grown into a highly respected business under the leadership of Paul Drake and Roger Priaulx, Managing Director, who will remain with the business. Roger has also joined HIGHVERN's Executive Committee.
Martin Hall, HIGHVERN Chief Executive, commented: "We are delighted to welcome all our new colleagues in Cayman with whom we have already developed a close working relationship; we are looking forward to supporting them with growing the business in Cayman and making it a fully integrated part of the HIGHVERN group."
Roger Priaulx added: "HIGHVERN is clearly the optimal acquirer for the scale and nature of our business, and we are already seeing opportunities that being part of such a well-regarded international group brings for both our clients and our colleagues."
Naomi Rive, Group Head of Private Wealth at HIGHVERN, is well known in Cayman's private client legal community and has joined the Cayman board. She said: "The professional team at Genesis has a very strong reputation and we're excited to leverage the potential from bringing our two businesses together, hiring elsewhere too, and creating one of the strongest private wealth teams across the locations in which we operate."