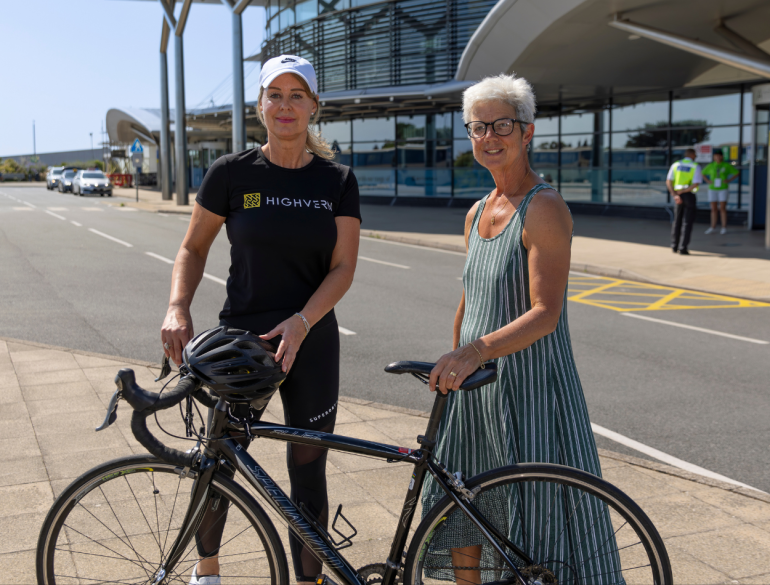 In partnership with the Smile for Georgie Foundation, local financial services provider HIGHVERN is inviting cyclists of all abilities to join them for a unique opportunity to ride on Guernsey airport's two-mile runway circuit.
Taking place on Saturday 22 July, riders can take to the tarmac from 9pm for 90 minutes of traffic-free cycling; peddling into the sunset and following in the path of the island's local jets.
Whether you're looking to simply enjoy the novelty of the usually restricted location, or you plan to see how many laps you can do in the allotted time, the runway's generous 25-metre width offers plenty of space for every runway rider to go at their own pace. Separate tracks will be arranged for families, electric bikes and experienced cyclists to ensure everyone feels confident and safe using the area.
Tickets are £5 for under 16s and £20 for 16+ with all proceeds going to the Smile for Georgie Foundation, in support of the Tour of the Roses 2023, a cycle challenge in France which is raising money for the charity.
Francoise Bougourd, Director at HIGHVERN Guernsey said: "We're excited to welcome Guernsey's cyclists to the Runway Ride. We're proud to be supporting such a great cause and, on top of having lots of fun, we hope the event will inspire more islanders to get on their bikes this summer and choose active travel over the car."
Jenny Le Prevost, founder of the Smile for Georgie Foundation, said: "Our purpose is to bring a smile to islanders' faces and there's just something about being somewhere you're usually not allowed, like the runway, that brings out a childish excitement in us all. We can't wait to welcome everyone airside for what should be a brilliant, fun and active community event."
The event is open to anyone aged 10 and over, but under-16s must be accompanied by an adult. Head to the event's Eventbrite page to sign up and keep up-to-date with event news via its Facebook event page.