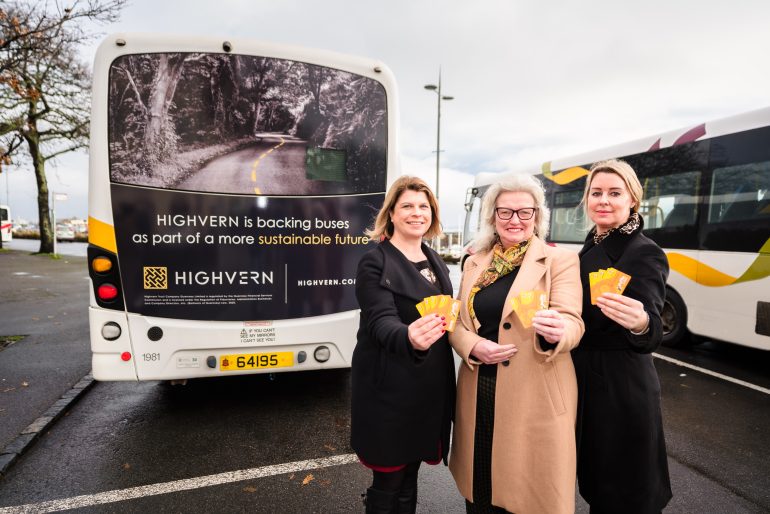 HIGHVERN is encouraging islanders to use more public transport with its 'back the buses' campaign, as it puts sustainability at the heart of its ESG Plan for 2023.
In recognition of the rising cost-of-living and the added financial strain many will experience this winter, the local fiduciary services provider has donated 200 credited puffin passes to the financial inclusion charity Guernsey Community Savings, empowering more islanders to access more sustainable travel.
The initiative follows HIGHVERN's launch in Guernsey earlier this year, as it continues to expand its private wealth offering in the Channel Islands and globally, with offices already rooted in the Cayman Islands, Jersey, Ireland, Switzerland and the UK.
Setting the standard not just through its client work but also in the community, HIGHVERN ensures sustainability is an integral strand of its CSR and ESG strategies. 'Back the buses' builds on the group's already-established partnership with Evie bikes for its team members in Guernsey and Jersey and complements its multi-jurisdiction participation in Alternative Transport Week.
Client Director at HIGHVERN Guernsey, Kerrie Le Tissier, said: "HIGHVERN is very committed to its ESG initiatives, and the group is continually looking at ways in which we can give back to the community and protect the environment. We hope our 'back the buses' campaign will lead to more people considering using public transport as an alternative to driving, as well as helping those feeling the financial strain this winter.
"Keep your eyes on the road for our HIGHVERN bus advert, reminding us all to consider more sustainable options when we travel."
Guernsey Community Savings is a charity that arranges basic banking services for people who have been unable to open a retail bank account and offers financial education to those who need it.
Its Managing Director, Jane Kerins, said: "As outgoings rise, and particularly going into winter when people begin to feel the squeeze of increased energy bills, more and more individuals and families will be facing financial hardship. We're incredibly grateful to HIGHVERN for providing us with a bank of puffin passes we can distribute to those who use our service and to other local charities providing crucial financial support."